スクリプトを公開
---
前提条件
Script Designer default role
Publishing makes a saved script available to Architect call flows or outbound dialing campaigns. Until a script is published, it is a draft document that is only visible in the Scripts list.
To publish a script, click the Script menu. Then click Publish.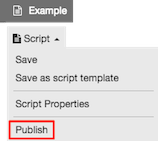 Note: The publish option is disabled when a new script is created. You must save a script before publishing it.
---