ディレクトリを検索
---
Click the Directory menu to quickly search for people, members of groups, and external contacts. 
検索:  マーケティング部門の人はスペイン語を話すか。
To find the people you need, type keywords in the search field. Keywords can be names, titles, departments, skills, or anything else in profile pages. Restrict your search to specific profile fields for a more exact match. 
検索機能 (ビデオ チュートリアル)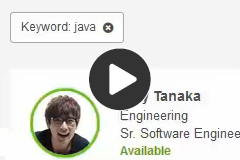 Type one or more keywords in the search field.

For example, type "marketing Spanish" to find people who are in the marketing department and speak Spanish.

 Select a result from the list or press Enter for full results.

The full results list includes all results that contain all of the keywords you entered.

Sort the results by people, groups, locations, and contacts. Learn more about searching for groups or searching for external contacts.
そのカテゴリだけでキーワードを検索するカテゴリを選択します。

たとえば、スペイン語の検索し、によって結果を絞り込む 部門: マーケティング プロフィールにスペイン語を一覧表示、マーケティング部門の人を見つける。
検索:  テスト チームのすべてのメンバーは誰ですか。
を検索することができます。 グループ 組織内でユーザーを検索するのと同じ方法。 
In the search field, type keywords that describe the group.

Select the group from the results list or from the Search page.

できます:

| | |
| --- | --- |
| 誰が検索したり、リストをスクロールしてメンバーを見つける | |
| リストをフィルター処理します。 | |
| Contact members individually by phone or chat. | |
Use search to find external contacts. Administrators add external contacts for your organization, but these contacts are not organization members and cannot log on. External contacts have hexagonal profile icons.
In the search field, type keywords that describe the external contact.

PureCloud displays a list of the top results. 

プレス 入力してください。 ディレクトリの完全な検索結果。 

Note: You can also enter the Directory without starting a search. Click the Directory menu.

Click Contacts to filter for external contacts.
From an external contact, click the Phone, Email, or More options icons to:

あなたの電子メール プログラムを使用して連絡先をメールします。
Call the contact.
連絡先の電話番号、メール アドレスを表示します。 
---